Expert Aircon Installations in Perth by Gildan Air and Electrical
Speak to us about:

Ducted Airconditioning
Split systems aircons
Reverse Cycle Air Conditioners
Upgrades, Changeovers
We install Actron, Samsung, Daikin, Panasonic & Fujitsu
Expert Aircon Installations in Perth by Gildan Air and Electrical
Speak to us about:

Ducted Airconditioning
Split systems aircons
Reverse Cycle Air Conditioners
Upgrades, Changeovers
We install Actron, Samsung, Daikin, Panasonic & Fujitsu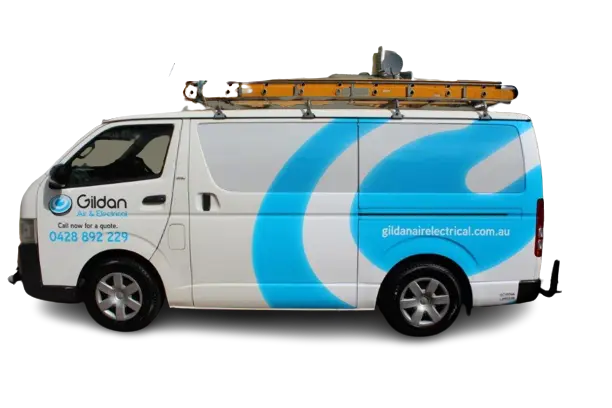 Beat the relentless Perth heat with a professionally installed air conditioning system by Gildan Air and Electrical.
With our seasoned team of certified Aircon installers we guarantee a smooth installation experience, crafting bespoke cooling solutions to cater to your distinct needs and ensure your home remains a sanctuary even during the scorching summer months.
Types of Aircon Systems We Install
Split System Air Conditioners:

These are perfect for cooling specific areas of your home or office. They are cost effective, energy efficient and can be installed swiftly, often within a day. They consist of an indoor unit which is mounted on the wall and an outdoor unit placed outside the building.
Ducted Air Conditioning Systems:

Ideal for whole house or large space cooling/heating. They operate silently providing a uniform temperature throughout the premises. Installation requires careful planning to design the duct layout and may take a few days to ensure a seamless setup.
Evaporative Air Conditioning Systems

: A sustainable choice that utilises the natural process of evaporation to cool your space. They are best suited for areas with dry heat. The installation time and procedure vary based on the existing infrastructure and whether the system will be roof mounted or installed in a window.
Why Choose Gildan Air and Electrical for your Aircon Installation in Perth?
Entrust your comfort to us with over 20 years of proven experience in air conditioning installation.
Our highly skilled Aircon installers in Perth, equipped with the latest technology ensure safe and proficient installations.
From the initial consultation where we assess your needs and space to post installation support we're dedicated to ensuring your comfort at every step.
Our comprehensive services encompass a meticulous installation process, quality checks and a tutorial on managing your new system, ensuring a seamless transition to a cooler more comfortable environment.
The Installation Process for your new Aircon
We commence with a thorough evaluation of your space understanding your needs and budget.
Following this our experts recommend the most suitable air conditioning system. The installation process varies with the type of system:
Split System: Known for its speedy and straightforward installation our technicians ensure the process is completed with minimal intrusion often within a day. We will mount the indoor and outdoor units, connect them with the necessary piping and electrical wiring ensuring a neat finish that blends with your decor.
Ducted System: This involves a more complex setup requiring meticulous planning. Our team inspects your property, plans the duct layout and installs the system over a few days ensuring seamless integration and optimal performance.
Evaporative System: The installation time varies based on existing infrastructure. Our experts evaluate the best installation spots, ensuring the system is properly mounted and connected to water supply and electricity, providing you with a natural efficient cooling solution.
Frequently Asked Questions about Aircon Installations
How much does aircon installation cost in Perth?
The cost of air conditioning installation in Perth varies based on several factors including the type of system you choose the size of your space and the complexity of the installation. It's advisable to get a personalized quote for a precise cost estimation.
How long does the installation take?
The duration of the installation process ranges from a few hours to a few days depending on the system type and the structure of your house. Simple systems like split air conditioners can be installed quicker while more complex systems like ducted or evaporative systems require more time for a seamless setup.
What brands of air conditioning systems do you install?
We install a wide range of reputable air conditioning brands to cater to different preferences and budgets. Our experts can advise on the best brands to meet your needs.
Do you provide a warranty for your installation services?
Yes we provide a comprehensive warranty for our installation services ensuring peace of mind and protection for your investment.
What areas in Perth do you serve?
We serve the entire Perth metro area and surrounding regions providing reliable and professional air conditioning installation services to a broad community.
Do you offer maintenance services post installation?
Absolutely we offer a range of maintenance services to ensure your air conditioning system remains in top condition, providing efficient cooling and heating for years to come.
Optimal Performance & Longevity: A professionally installed air conditioning system ensures efficient operation and an extended lifespan, providing long-term comfort.
Tailored Solutions: We customize air conditioning solutions to perfectly match your space, preferences, and budget, ensuring a seamless fit and satisfying experience.
Energy Efficiency: Our air conditioning systems are energy-efficient, promoting lower energy bills and a reduced carbon footprint.
Enhanced Comfort: Experience a comfortable indoor environment with precisely controlled temperatures, improving your home or workspace's ambiance.
Value Addition: Elevate your property's value with a professionally installed, modern air conditioning system, a sought-after feature for potential buyers or tenants.
Get Your Free Consultation Today! Are you ready to transform your space into a haven of comfort? Reach out to Gildan Air and Electrical at (contact info) or fill out our online form for a free consultation and quote.
Our team is ready to enhance your living or working environment with a professionally installed air conditioning system.
Reach out to Gildan Air and Electrical today and let's get this comfort party started. Ready to roll? Click here to hit us up now!
Cool Your Home with

Gildan Air & Electrical
We supply and install Actron Air Conditioners, Samsung Air Conditioners, Fujitsu and Daikin air conditioners. We specialise in new homes and renovations as well as changeovers. Our prices and service are unbeatable when you need split system, reverse cycle and ducted air conditioning.
Call us on 042 889 2229 or please fill out the form for a free no
obligation quote on your aircon or electrical needs.
0% interest payment
plans via Skye