Perth's Ducted Air Conditioning  Service
Gildan Air and Electrical your trusted partner for ducted air conditioning installations and services in Perth.
Speak to us about:
Ducted Airconditioning
Split systems aircons
Reverse Cycle Air Conditioners
Upgrades, Changeovers
We install Actron, Samsung, Daikin, Panasonic & Fujitsu
Call us today!
Ducted Air Conditioning Perth: Installation Services
Gildan Air and Electrical your trusted partner for ducted air conditioning services in Perth.
Speak to us about:

Ducted Airconditioning
Split systems aircons
Reverse Cycle Air Conditioners
Upgrades, Changeovers
We install Actron, Samsung, Daikin, Panasonic & Fujitsu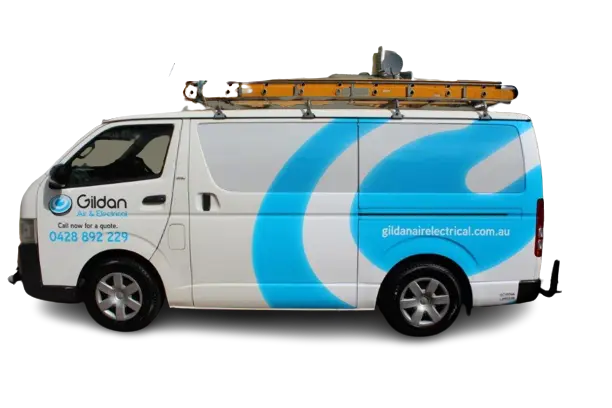 Our experienced team at Gildan is dedicated to providing top notch installation, repair, and maintenance services.
We're here to ensure that your home or business stays comfortably regulated, no matter the season
Our Ducted Air Conditioning Services in Perth
Reverse Cycle Ducted Air Conditioner Installation Services
At Gildan Air and Electrical we specialise in the expert installation of ducted air conditioning systems. Our process involves:
Personalised Consultation: Understanding your unique needs to design a system that fits your space.
Quality Equipment: Using top grade components for durability and performance.
Professional Installation: Efficient and minimally disruptive installation by skilled technicians.
Post Installation Support: Guidance on system use and ongoing customer support.
Ducted Air Conditioning Repair Services
Our repair services ensure your system is back to optimal performance quickly:
Rapid Response:

Swift action to address your repair needs.
Expert Diagnosis

: Advanced tools to accurately identify and fix issues.
Quality Repairs

: Using high quality parts for lasting repairs.
Clear Communication:

Keeping you informed throughout the process.
Maintenance Services for Ducted Airconditioners
Regular maintenance is crucial for system longevity and efficiency:
Regular Inspections

: Scheduled check ups to ensure system health.
Preventative Care

: Addressing potential issues early to prevent major problems.
Efficiency Focus

: Maintaining your system for optimal performance and energy savings.
Tailored Plans:

Customised maintenance schedules to fit your specific needs.
Each service is designed to provide you with a comfortable and efficient climate control solution tailored to your specific requirements.
Undersanding Your Reverse Cycle Ducted Air Conditioner
A ducted air conditioning system is a type of central air conditioning that provides cooling and often heating to multiple rooms or an entire building through a series of ducts.
Here is a breakdown of its key components and functionality:
Central Unit: At the heart of every ducted system is the central unit housing a compressor,    heat exchanger and fan. Tucked away in spots like your roof space or basement it's the powerhouse of your climate control.
Ductwork: This central unit connects to different rooms or areas through a hidden network of ducts usually made of materials like sheet metal or fiberglass. They run unobtrusively through your walls, floors or ceilings.
Zoning Capabilities: Ducted systems shine with their zoning feature. It means you can have different temperatures in different zones or areas perfect for larger homes or businesses with varied cooling or heating needs.
Efficiency and Distribution: These systems excel in evenly distributing air throughout your building. They are a great fit for larger spaces ensuring every corner is just the right temperature.
Aesthetics and Noise With all the ductwork out of sight and the main unit away from living spaces these systems are not just discreet in appearance but also operate more quietly than individual room units.
Thermostat Control The entire system is at your command via a central thermostat. Set your ideal temperature with ease and for those who love a bit more control there are programmable and smart thermostats available.
Ducted air conditioning is a favourite for both homes and businesses owing to its effective climate control, efficiency and the convenience of a single centralized system.
Ducted air conditioning is popular in both residential and commercial settings due to its efficiency, effectiveness in controlling the climate of larger spaces and the convenience of having a single centralised system.
Questions and Answers about ducted air conditioning in Perth:
How long does a typical Perth ducted air conditioning installation take?


The duration of installation can vary depending on the size and complexity of your property. However most installations are completed within a day or two ensuring minimal disruption to your routine.

Are ducted air conditioning systems energy efficient?


Yes modern ducted systems are designed for high energy efficiency. They use advanced technology to reduce power consumption which can lead to lower energy bills and a reduced environmental impact.

Can I control different temperatures in different rooms with a ducted system?


Our ducted systems come with zoning capabilities allowing you to control the temperature in different areas of your home independently. This feature enhances comfort and can further improve energy efficiency.
What warranty do you offer on ducted air conditioning systems?


We provide a comprehensive warranty for all our installations covering parts and labour. The specific terms vary based on the system chosen but we ensure substantial coverage for your peace of mind.

How do I know if my current system needs replacing or just repairing?


Our expert technicians will conduct a thorough evaluation of your current system and advise you on the best course of action. Factors like age, efficiency and frequency of repairs will be considered in making this decision.

Do you offer financing options for ducted air conditioning installation?


Yes we understand that installing a new system is a significant investment. We offer a range of financing options to help make this essential home improvement more affordable.
Perth Ducted Air Conditioning: Key Highlights
| | |
| --- | --- |
| Customised Air Conditioner Solutions | Personalised installation services tailored to each client's unique space and requirements. |
| High Quality Equipment | Usage of top grade components in ducted AC installations and repairs for durability and optimal performance. |
| Professional Ducted aircon Installations | Our skilled Gildan AC technicians ensure efficient, tidy and minimally disruptive ducted air conditioning installation. |
| Prompt and Accurate Ducted Aircon Repairs | Rapid response and advanced diagnostics for quick and accurate Air Conditioning issue resolution. |
| Proactive AC Maintenance Services | Regular maintenance and preventative care extend the climate control system's life and prevent breakdowns. |
| Energy Efficiency and Cost Savings | Efficient systems and regular servicing lead to reduced energy consumption and lower utility bills for using your ducted air conditioning. |
Get in Touch: Start Your Journey to Comfort Today
Contact Gildan Air and Electrical for all your ducted air conditioning needs in Perth. Our team is ready to provide you with a personalised solution that ensures your comfort and satisfaction.
Cool Your Perth Home with

Gildan Air & Electrical
We supply and install Actron Air Conditioners, Samsung Air Conditioners, Fujitsu and Daikin air conditioners. We specialise in new homes and renovations as well as changeovers. Our prices and service are unbeatable when you need split system, reverse cycle and ducted air conditioning.
Call us on 042 889 2229 or please fill out the form for a free no
obligation quote on your aircon or electrical needs.
0% interest payment
plans via Skye