What we Can Do for Your Air Conditioner in Perth
Gildan Air and Electrical, where we understand that in Perth with its intense summers and chilly winters having a working air conditioner is essential.
Speak to us about:
Ducted Airconditioning
Split systems aircons
Reverse Cycle Air Conditioners
Upgrades, Changeovers
We install Actron, Samsung, Daikin, Panasonic & Fujitsu
Call us today!
What we Can Do for Your Air Conditioner in Perth
Gildan Air and Electrical, where we understand that in Perth with its intense summers and chilly winters having a working air conditioner is essential.
 Speak to us about:

Ducted Airconditioning
Split systems aircons
Reverse Cycle Air Conditioners
Upgrades, Changeovers
We install Actron, Samsung, Daikin, Panasonic & Fujitsu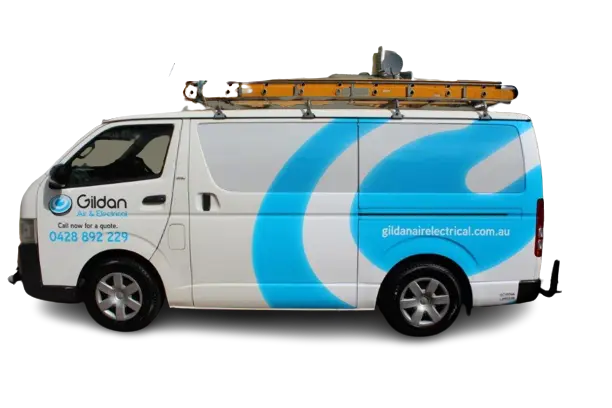 Our air conditioning installation services are geared towards meeting the demands of local homes and businesses ensuring that whether you need a new system installed or your current one serviced we've got you covered.
Our Air Conditioning Services in Perth
Installations We Provide:
Ducted Inverter Systems: These systems are designed for managing the climate of an entire home or office providing consistent temperatures and reducing energy costs.
Reverse Cycle Air Conditioning: Offering the convenience of both cooling and heating these units keep your space comfortable no matter the season.
Split System Air Conditioning: These are great for when you need to control the temperature in specific areas making them an economical choice for individual rooms or spaces with an open layout.
Supply & Installation: Our client base is varied and we're equipped to handle the air conditioning needs of any setting be it residential, educational, commercial or retail.
Maintenance Services in Perth:
We understand the importance of regular upkeep to ensure your air conditioning system's longevity and efficiency which is why we provide thorough maintenance services across Perth.
After Sales Care:
Our relationship with you doesn't end at installation. We stand by our work with a full warranty and are here to support you with any after sales service you might need.
By choosing Gildan Air and Electrical you're opting for a team that's committed to your long term satisfaction and comfort.
Choosing a professional for air conditioning services ensures that installations and maintenance are performed to the highest standards. At Gildan Air and Electrical our certified technicians are not only adept at meeting the rigorous quality and safety standards but also bring a wealth of knowledge specific to Perth's unique climate demands.
We ensure that all our services are compliant with the latest regulations providing you with a safe, efficient and reliable air conditioning system tailored to your needs.
Our commitment to professionalism extends to our dedication to energy efficiency. We understand the importance of eco friendly solutions that align with both your financial and environmental concerns.
With Gildan Air and Electrical you gain access to energy efficient air conditioning options full warranty coverage and a reliable after sales service that together guarantee your peace of mind and the enduring performance of your air conditioning system.
Testimonials on Air Conditioning Installations and Maintenance
"Gildan Air and Electrical transformed our home with their ducted system. We've experienced nothing but cool, comfortable summers and warm winters ever since. Professional and efficient service"
"Regular maintenance from Gildan has extended the life of our air conditioners and reduced our energy bills. They are always thorough and reliable."
"The team at Gildan was exceptional. They advised us on the best system for our office and executed the installation without interrupting our business operations."
"After trying different services Gildan stands out for their attention to detail and customer care. Our retail space has never been more comfortable for our customers and staff."
Our commitment to excellence is evident in the numerous projects we have  undertaken but one particular case study stands out highlighting our dedication to providing bespoke air conditioning solutions in Perth.
A prominent local business was facing challenges with their outdated air conditioning system which was not only failing to maintain a consistent temperature throughout their premises but also leading to soaring energy bills. Recognising the need for a specialised approach Gildan Air and Electrical stepped in to address the issue.
Our initial step was a comprehensive evaluation of the existing system and the business's cooling requirements. Our experts considered various factors such as the layout of the premises the volume of foot traffic and the specific cooling demands of different areas within the building.
The diagnosis was clear the business required a system that could provide efficient cooling without the excessive energy costs. Our answer was a ducted inverter system renowned for its ability to modulate cooling output precisely and efficiently.
We designed and implemented a zoned ducted system that allowed different sections of the business to be cooled independently thus providing flexibility and improved control over the indoor climate. This zoning capability ensured that energy was not wasted on cooling unoccupied spaces while occupied areas received adequate airflow to maintain comfort.
The installation process was carried out with minimal disruption to the business's operations. Our certified technicians worked around the business's schedule ensuring that their daily activities could continue without significant interruption.
The result of this project was a remarkable 30% improvement in cooling efficiency and a significant reduction in energy consumption. The business not only enjoyed a more comfortable working environment but also benefitted from the cost savings associated with the enhanced efficiency of their new air conditioning system.
This success story is a testament to Gildan Air and Electrical's ability to provide customised solutions that not only meet but exceed the expectations of our clients solidifying our reputation as a leading provider of air conditioning services in Perth.
Q: What air conditioning system is best for my Perth home?
A: The best system depends on the size of your home and specific needs. Our team can assess and recommend the most suitable  option whether it be a ducted inverter, reverse cycle or split system.
Q: How often should air conditioning units be serviced in Perth?
A: We recommend servicing at least once a year to ensure efficiency though this may vary based on usage and type.
Q: Can you provide air conditioning solutions for both small and large scale projects?
A: Absolutely  We have experience handling installations and maintenance for spaces of all sizes from small homes to large commercial buildings.
Q: Are your air conditioning units energy efficient?
A: Yes we supply units that are designed to be energy efficient helping to reduce your carbon footprint and electricity bills.
Q: What warranty do you offer on air conditioning installations?
A: We offer a comprehensive warranty and after sales service on all our installations. The terms of the warranty will be outlined at the time of service.
Q: How can I get a quote for air conditioning installation in Perth?
A: You can contact us directly through our website or phone number to schedule an assessment and obtain a  personalised quote.
Gildan Air and Electrical is committed to delivering professional and reliable air conditioning services across Perth. Our focus is on providing personalised energy efficient cooling solutions for homes and businesses backed by exceptional after sales support.
Choose us for trusted expertise and a comfortable cost effective climate year round. Contact us to find out how we can enhance your air conditioning experience.
Cool Your Home with

Gildan Air & Electrical
We supply and install Actron Air Conditioners, Samsung Air Conditioners, Fujitsu and Daikin air conditioners. We specialise in new homes and renovations as well as changeovers. Our prices and service are unbeatable when you need split system, reverse cycle and ducted air conditioning.
Call us on 042 889 2229 or please fill out the form for a free no
obligation quote on your aircon or electrical needs.
0% interest payment
plans via Skye